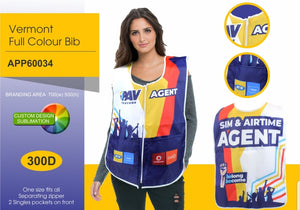 Full Colour Vermont Bib with Front Zip and pockets
Two single pockets on front
Material: 300D
Advertising bibs are one of the best mobile marketing platforms available.
For advertising that is truly on the move, get your brand out and about with full colour sublimated bibs.

With sublimation print you have free reign over the design. With edge to edge branding, you can have full coverage of your bib to brand.
With sublimated shirts there is a setup printing charge which you must select under our printing section of R430.00. This is whether it is 1 shirt or 100 shirts you need done.