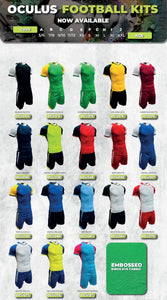 Oculus Style Soccer Set -Senior Sizes
Available in free sizing
Minimum 14 sets need to be taken but you can choose the sizes you need.
5/6yrs, 7/8yrs, 9/10yrs, 11/12yrs
Embossed birds eye fabric material
Price is per set of shirts & short
You must select the exact qty you need eg. if 16 needed, then choose 16 units of each size you want.
Back of shirt is plain for printing of names and numbers
Extra cost for printing